Welcome to Hartland High School!
Welcome Back Students!
Welcome back to all of our students and families for the start of a great 2014-15 school year!
For convenience, daily bell times and schedules are on the link to the right titled "HHS Daily Schedules". As another reminder, school will be releasing early this year at 1:20 p.m. on Fridays.
Feel free to call the office at any time if you have questions!
Pre Game, Band, Athletics - What a Great Way to Start the Year!
On August 28, we had a very exciting start to our school year with a packed student body at Pre Game celebration in the courtyard. This Pre Game sponsored by LINK was a fun summer beach theme, and students dressed the part! This was quickly followed by inspiring performances from our marching band and football team. HHS won the football game against Gross Pointe North in convincing fashion, and the marching band, let by new Band Director Mr. Brad Laibly provided outstanding school spirit and musical entertainment. It was an all-around excellent night and we look forward to many more successes!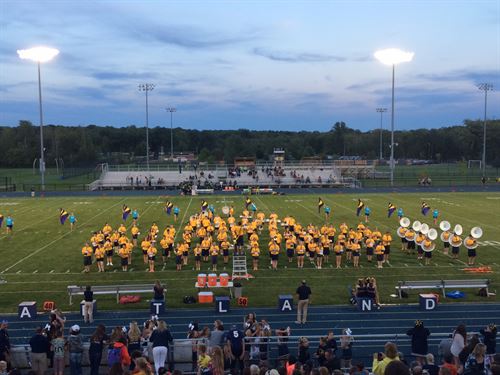 School Supplies
SUGGESTED classroom supplies for high school students. This list is not comprehensive, and the items are only suggestions from teachers and not a requirement to be a part of the class. If you have any questions, don't hesitate to call!
High School Math Calculators:
It is recommended that students have a TI-84 Plus Calculator for their math and science classes at HHS.
Join the Hartland High School ListServ
This list serve will send parents periodic newsletters and other information that is pertinent to your child's graduating class. Go to
http://lists.hartlandschools.us
to join!
Parent Connect
If you need your pin/password, please
e-mail here
. You will get a response within 5-10 school days.
College Bound?
Now you can order transcripts online.
Click here
to request transcript.