Welcome to Hartland High School!
HHSHappenings 9-24
September is Childhood Cancer Awareness Month
Hartland High School proudly recognizes September is Childhood Cancer Awareness Month!

Childhood Cancer is the number one disease killer of children. We lose more children to cancer than all other diseases combined. Many of our students have been afflicted with this disease in their lives, and some have even lost friends to this disease.

This September, HHS challenges you to do something to fight against Childhood Cancer!
• Get Involved

• Speak Up for KIDS

• Share Info on Facebook Twitter & Instagram

• Wear gold in support of childhood cancer awareness!

Kids can't fight cancer alone! Please consider donating to organizations committed to funding the most promising research to find cures for Childhood Cancer, and give survivors long, healthy lives:

• St. Baldrick's

• Alex's Lemonade Stand

• CureSearch

• Cookies for Kids Cancer

These organizations send your donations directly to the mission of curing Childhood Cancer.
Career and Technical Education Open House
Career and Technical Education Open House is coming to Hartland High School!
The Hartland High School Career and Technical (CTE) department is hosting a vocational and technical program Open House on Thursday, October 2nd!
This Open House is for students, parents, and members of the community the chance to explore several programs offered here at the high school, including:
Automotive, Building Trades, Business, Mechanical Engineering, Animation, Architecture, Nutrition, and Family Consumer Sciences.
You will have the opportunity to talk with instructors, explore the facility, see technical equipment in use, and find out about college/career opportunities.
The Open House will run from 6-8 PM in the 100 and 400 wings of the high school. Food and refreshments will be provided.
Looking for parking? Here's a map: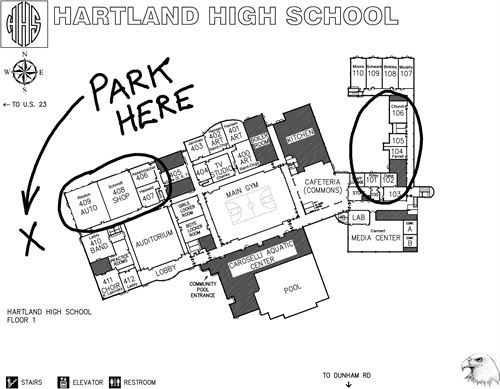 School Supplies
SUGGESTED classroom supplies for high school students. This list is not comprehensive, and the items are only suggestions from teachers and not a requirement to be a part of the class. If you have any questions, don't hesitate to call!
High School Math Calculators:
It is recommended that students have a TI-84 Plus Calculator for their math and science classes at HHS.
Join the Hartland High School ListServ
This list serve will send parents periodic newsletters and other information that is pertinent to your child's graduating class. Go to
http://lists.hartlandschools.us
to join!
Parent Connect
If you need your pin/password, please
e-mail here
. You will get a response within 5-10 school days.
College Bound?
Now you can order transcripts online.
Click here
to request transcript.