Welcome to Hartland High School!
DAR Michigan Outstanding Teacher 2015
A BIG congratulations to Mr. Paul Scheidler, who has been selected as the Daughters of the American Revolution Michigan Societies 2015 Michigan Outstanding Teacher of American History! To be eligible, the candidate must exhibit a host of qualities, including, "foster a spirit of patriotism and loyal support of our country and constitutional government". Mr. Scheidler will be formally honored in March, and also be nominated for the Michigan representative for the National level contest. Congratulations Mr. Scheidler!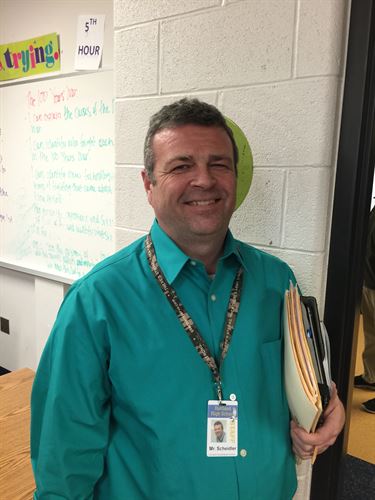 MLK Day of Service
On Tuesday, January 13th, the entire student body of Hartland High School participated in a Day of Service to commemorate the work of Martin Luther King, Jr. Hundreds of needed items were created, packaged and sent to numerous local and state charity organizations. Some of the organizations that the students helped are Gleaners, Last Chance Rescue, Meals on Wheels, as well as many others. Thanks to the tireless efforts of the staff and students, these items will have a generous impact on our community, as well as taught our students a valuable lesson in service.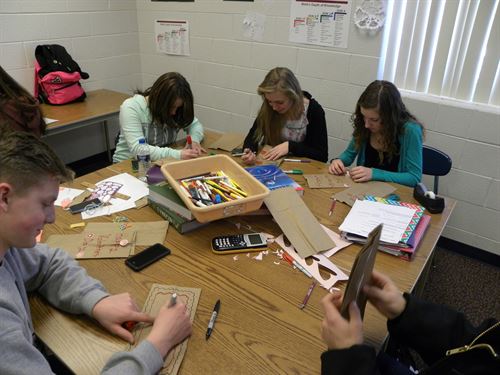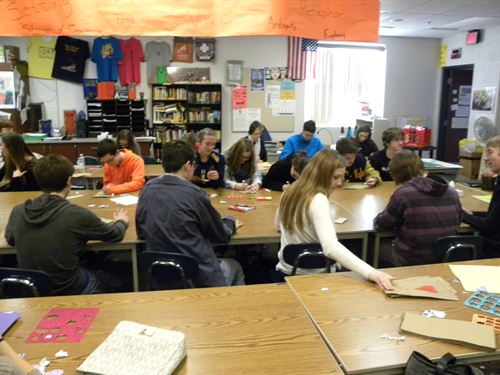 Poetry Honors
Morgan Talmage, a sophomore student, was recently honored in the literary world. Her poetry submission to poeticpower.com was chosen to part of a tri-yearly anthology publication. Her submission will also be considered for a Top Ten award for a cash prize. Congratulations to Morgan, and best of luck on the Top Ten!
MHSAA Scholar-Athlete Finalists
For the first time in Hartland High School history, we have two MHSAA Scholar-Athlete finalists this year. There were approximately 1700 applications, and these two students are out of the 120 finalists that made it to the next selection round. The final 32 winners will be selected and announced on January 30th. Congratulations to Carson Vestergaard and Sara Condra on this highly coveted recognition!
Shared Time Programs
On Friday, February 6th, we will be hosting teachers that are responsible for the LATEC Shared Time programs that are available to Hartland students. If you are interested in the following programs, please sign up in the counseling office to hear more from them:
Computer Network Engineering
Robotics
Culinary Arts
Manufacturing Engineering Tech Cluster
Health Occupations
Graphic Communications
Early Childhood Education
Again, these teachers will be available to meet on 2/6. To meet them, you must sign up ahead of time in the Counseling Office.
2015-2016 UM DEEP Program
The DEEP Program with the University of Michigan-Flint is a year-long, two semester program that offers the students a chance to earn college credit at a discounted rate. The programs that are offered are: Business/Economics, Law and Criminal Justice, Pre-Medical Sciences, and Pre-Engineering. These courses are transferable to future colleges, and a great way to earn early college credits.you have a current junior who is interested in participating in the DEEP program for the 2015-2016 school year, there will be an informational meeting for all four programs. You and your student are welcome to both attend!
The date is: January 28, 2015 at 6:30 PM at the HESSC (Old Hartland High School).
If you have further questions, please feel free to call your student's high school counselor.
High School Math Calculators:
It is recommended that students have a TI-84 Plus Calculator for their math and science classes at HHS.
Join the Hartland High School ListServ
This list serve will send parents periodic newsletters and other information that is pertinent to your child's graduating class. Go to
http://lists.hartlandschools.us
to join!
Parent Connect
If you need your pin/password, please
e-mail here
. You will get a response within 5-10 school days.
College Bound?
Now you can order transcripts online.
Click here
to request transcript.